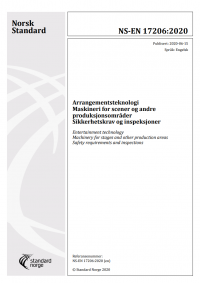 I 2020 har det kommet en ny felleseuropeisk standard for scenemaskineri; EN 17206:2020
Navnet på standarden er EN 17206:2020 Arrangementsteknologi — Maskineri for scener og andre produksjonsområder — Sikkerhetskrav og inspeksjoner (Entertainment technology — Machinery for stages and other production areas — Safety requirements and inspections).
I Norge er den kun mulig å få kjøpt på engelsk, men i Sverige har de laget en to-språklig utgave med svensk og engelsk (se link lenger ned).
Norsk Standard: NS-EN 17206:2020
Svenska institutet för standarder: SS-EN 17206:2020
Omfang (hentet fra originaltekst på engelsk):
This document applies to machinery, machinery installations and machinery control systems used in places of assembly and in staging and production facilities for events and theatrical productions (stage machinery, for short). Such facilities include: theatres, multi-purpose halls, exhibition halls; film, television and radio studios; concert halls, schools, bars, discotheques, open-air stages and other rooms for shows and events. The document applies to machinery installations with guided or unguided loads. This document covers machinery used in the entertainment industry including machinery that is excluded from the Machinery Directive (2006/42/EC) specifically Article 1, 2(j) which excludes «machinery intended to move performers during artistic performances». This machinery includes controls, electrical and electronic control systems, electrical and electronic equipment, hydraulic and pneumatic power supplies. The principles in this document also apply to machinery installations based on new technologies or specially designed installations which are not expressly mentioned here but which nevertheless operate in a similar manner or are meant for similar purposes to the equipment listed above.